What a great sunny day Day 28 of Frocktober was! Shame I spent half of it in my PJs when it was such a frocky day, but it was nice to have a home-based day where I didn't have to hurry to be anywhere. I didn't put my frock on until it was time for the mini-photographer and I to head to the pool for a waterslide and a swim.
Here I am doing some kind of weird fashion lean pose, which is probably not necessary for an outfit made up of a swimsuit, a very old frock from Vinnies, a Kmart pool bag and free thongs souvenired from my hotel in Penang years ago.
We had lots of fun at the pool, and then we went and got ourselves a watermelon.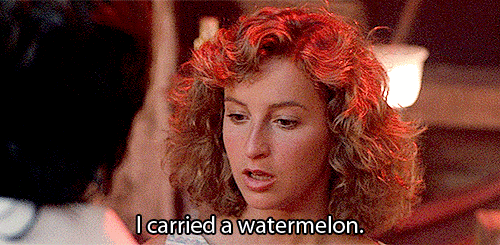 Woolies was all out of pumpkins but the mini-photographer was dead keen on carving a gourd for Halloween, so we went with a watermelon.
Somehow we managed to make it an emoji face. So festive! Rotting fruit to greet our visitors!
Finally, I switched frocks to go and be DJ Oily Shoes at Littlefoot Bar. Some very excited dancefloor ripper-uppers got all emotional when I played Ratcat, and were pointing at me singing "You-ew-ew-ew! I love you!" and saying "You KNOW forty year old women!" Which is true, I guess women's 40ths are my specialty! So I guess I've moved on from when Alfred at 501 Receptions insisted he could get me lots of gigs doing 50th wedding anniversaries.
I passed an exciting Frocktober milestone on Day 28, when donations from Emma and Kate tipped me over the $3500 mark, and the Frock This Town team over the $4500 mark which was our joint goal! Thank you both, plus everyone who has donated so far. I'm proud to be amongst the Top 12 fundraisers on the Frocktober page this year.
If you want to keep the cash flowing to dedicated scientists, because cancer needs to be kicked in the teeth, visit my donation page here.